Imagine receiving a gift box filled with delicious sweets, dates, nuts, and other goodies from your loved ones during the Hari Raya celebration. The gift box is beautifully decorated and carefully put together, making you feel loved and appreciated.
That's what the Hari Raya gift box is all about. It's a tradition that has been passed down for generations, and it's one of the most heartwarming aspects of the Hari Raya celebration. During this special time, family and friends come together to share a meal, exchange gifts and spread joy and happiness.
The gift boxes are not just filled with treats but also a symbol of love and respect for the recipient. They serve as a reminder of the importance of strengthening relationships and promoting unity during this joyous occasion.
So, if you want to make your loved ones feel special during the Hari Raya celebration, consider gifting them a beautifully decorated and personalised Hari Raya gift box. It's a gesture that will surely put a smile on their faces and create lasting memories for years to come.
What Should I Buy for Hari Raya?
Whether it's for family, friends, or colleagues, choosing the right gift for Hari Raya can be challenging, especially when you want it to be meaningful and memorable. Here are some gifts that induce care and practicality.
For Business Partner
Mug set
A mug set is a perfect gift for a business partner who loves to start their day with hot coffee or tea. With this gift, your business partner can enjoy their favourite hot beverage while thinking of you.
Chocolates
Chocolates are a classic gift that is a wonderful way to show appreciation and gratitude to your business partner. Chocolates come in various flavours and forms, from dark chocolate to milk chocolate, truffles to bars, and everything in between.
Tea set
A tea set is a thoughtful and practical gift for a business partner who enjoys a relaxing cup of tea. A tea set is perfect for anyone who values the art of tea making and enjoys sharing the experience with others.
For Staff
Office supplies
Office supplies are a practical gift for employees who work in an office setting. Consider gifting high-quality pens, notepads, or desk organizers that will be useful in their day-to-day work.
Personal care items
Personal care items can help employees feel appreciated and cared for. Gift sets of skincare, bath and body products, or fragrances are always popular and can make employees feel pampered.
Customised gifts
Personalising gifts based on their preference will definitely touch their heart forevermore. It shows how much you care for them to the extent of remembering their favourite. Small gestures but filled with lots of love will definitely melt their hearts away.Consider personalising gifts with the company logo or a special message to show your appreciation for your employees.
For Families & Friends
Food basket
What other best way to bring people together and fill the day with joy other than food? A food basket filled with traditional Hari Raya candies, snacks, and delicacies is the perfect way to bring people together to celebrate. This gift is perfect for sharing and enjoying together.
Home furnishings
Home furnishings like ornamental lanterns, table runners, placemats, or wall art can help set the mood for a celebration. This type of gift is not only thoughtful, but it can also be a great way to decorate the home for the festive season.
Incense and candles
Scented candles and incense can create a cosy and welcoming environment, making them an excellent gift for those who enjoy home smells. Perfect for creating a relaxing and calming atmosphere at home.
Greeting cards
A thoughtfully crafted handwritten card is simple yet meaningful. Your friends will surely treasure this gift as they know you are thinking about them. Consider taking the time to write a heartfelt message expressing your gratitude and appreciation.
Top 10 Best Gift Boxes for Hari Raya
A gift box is a considerate and practical way to express your gratitude to friends, family, and coworkers. Choosing the ideal gift box for Hari Raya might be challenging because there are so many options available. To help you select the ideal gift for each occasion, we've compiled a list of the Top 10 Best Gift Boxes for Hari Raya.
Each gift box has been thoughtfully chosen, from tasty delicacies to valuable goods, to make the receiver smile. Find the ideal gift box for your Hari Raya celebrations by starting now.
1. Complete Food Set
During Hari Raya, a complete food set is a beautiful way to show appreciation and bring people together. The gift typically includes a variety of delicacies and snacks commonly enjoyed during the festive season, all beautifully packaged to create a thoughtful and attractive present that your loved ones will cherish. It's the perfect gesture to express your gratitude and spread joy during this special occasion.
Price: RM388.00
Link: https://incstudio.gift/product/2023-hari-raya-ramadan-gift-set-05/ 
2. Hari Raya Snacks Set
Share the love this Hari Raya with a thoughtful gift of a Hari Raya Snacks Set, complete with crunchy granola and delicious chocolate bars, perfect for the holiday season or a sweet treat during Ramadan. Let your loved ones know you care with this beautiful gift, complete with colourful packaging that they will cherish for years to come. It's a delightful way to spread joy and show your appreciation during this special time.
Price: RM188.00
Link: https://incstudio.gift/product/2023-hari-raya-ramadan-gift-set-03/ 
3. Jam Gift Set
Looking for a unique and delicious Hari Raya gift that will definitely impress the ones you love? Check out this Jam Gift Set, a beautiful collection of premium fruit jams that are perfect for spreading on toast, croissants, or biscuits. Whether you're a fan of classic raspberry jam or adventurous combinations like blackberry or everybody's favourite, strawberry, this set has something for everyone.
Price: RM148.00
Link: https://incstudio.gift/product/2023-hari-raya-ramadan-gift-set-04/ 
4. Mug Set
Searching for an excellent Hari Raya gift for someone who loves tea or coffee? Fret not, this Mug Set is a great option. Featuring a beautiful ceramic mug and a selection of premium teas, this set is both thoughtful and practical. Your friends and family will appreciate the stylish design and high-quality materials of this gift.
Price: RM138.00
Link: https://incstudio.gift/product/2023-hari-raya-ramadan-gift-set-01/ 
5. Cookies and Tea Set
Treat your loved ones to something sweet this Hari Raya with the Cookies and Tea Set. A selection of mouth-watering icing sugar cookies, along with a packet of tea and a jar of traditional kurma can be found in the set. This set is sure to please your family and friends, especially if you're serving them as a dessert after a festive meal
Price: RM158.00
Link: https://incstudio.gift/product/2023-hari-raya-ramadan-gift-set-02/ 
6. Confectionery Set
Make this Hari Raya extra special with a confectionery set that is sure to satisfy any sweet tooth. The set includes an assortment of delicious confections, chocolates, and sweets from various brands and flavours, all beautifully packaged and perfect for sharing with family and friends. Spread the joy of the season with this delightful and indulgent gift set.
Price: RM158.00
Link: https://incstudio.gift/product/food-package-gift-set-03/
7. Coffee Set
A Raya gift can come in any form, so surprise your loved ones with this amazing coffee set that is perfect for the occasion. It includes all the essential coffee items, such as a glass mug with a leather cover, a French press, and coarse-grind coffee. This thoughtful and practical present is sure to make their morning coffee routine even more enjoyable.
Price: RM198.00
Link: https://incstudio.gift/product/2022-fathers-day-gift-set-01/ 
8. Self-Care Gift Set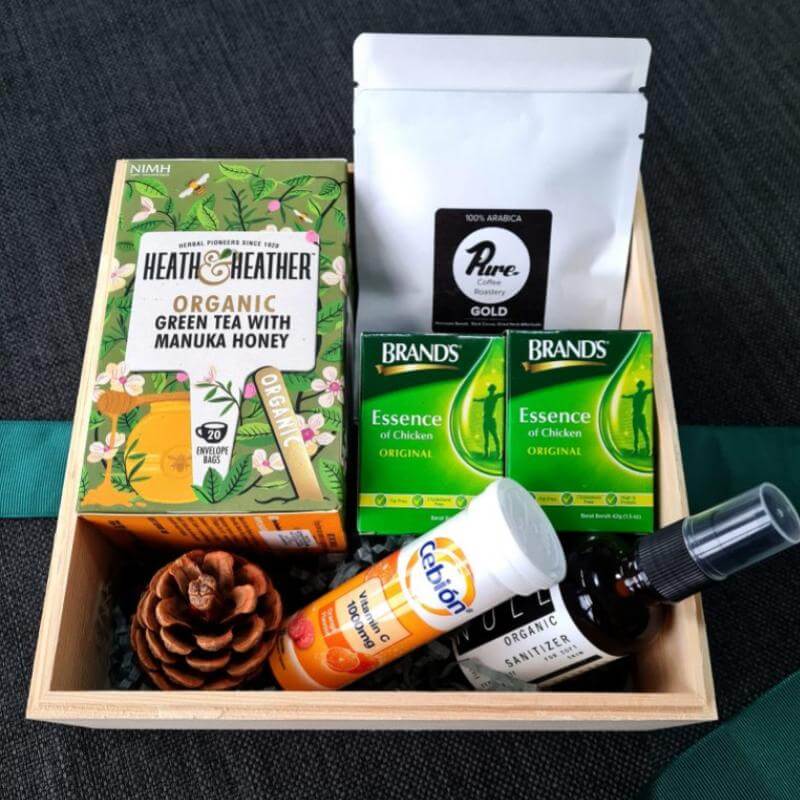 Worried that your friends or family are getting ill this Raya? Send them your care with a specially curated care package to get them back on their feet. It features organic tea, chicken essence, and 100% Arabica drip coffee. In addition, the set comes with Vitamin C and organic sanitiser to help keep loved ones healthy and safe during the festivities.
Price: RM178.00
Link: https://incstudio.gift/product/care-package-gift-set-05/ 
9. Tea Set
Surprise any tea enthusiast in your life this Hari Raya with a Tea Set packed with organic tea bags, a beautiful ceramic mug, and a personalised coaster made of solid wood. This set is ideal for those who love to savour their tea while taking in the calming aroma of camomile and spearmint.
Price: RM138.00
Link: https://incstudio.gift/product/2022-mothers-day-gift-set-06/ 
10. Fruit Basket Gift
Show your loved ones you care with a Fruit Basket Gift bursting with assorted arrangements of fruits.s. Along with the fruits, the box contains jasmine and rose tea in glass bottles packed with few bottles of chicken essence, making it a practical and thoughtful present for this Hari Raya season.
Price: RM188.00
Link: https://incstudio.gift/product/fruit-basket-gift-set-03/ 
Summary
Hari Raya is a time for celebration, unity, and giving thanks. A gift box is a wonderful way to express gratitude during this festive season. Thanks to this guide on Hari Raya gift boxes, you now have various options to select from, each providing a distinctive and unforgettable way to celebrate this particular event.
One of the most useful ways to ensure a memorable and exclusive Hari Raya celebration is by selecting a thoughtful and well-crafted gift. What better place to look for such gifts than a reputable gift shop such as In C Studio, that offers specially curated gift boxes to convey your love and appreciation for your family, friends, and coworkers? With a wide range of possibilities to choose from, including tasty treats and valuable items, you can make your Raya season truly special.